10 of the best Bruce Springsteen landmarks in New Jersey
Sponsored Links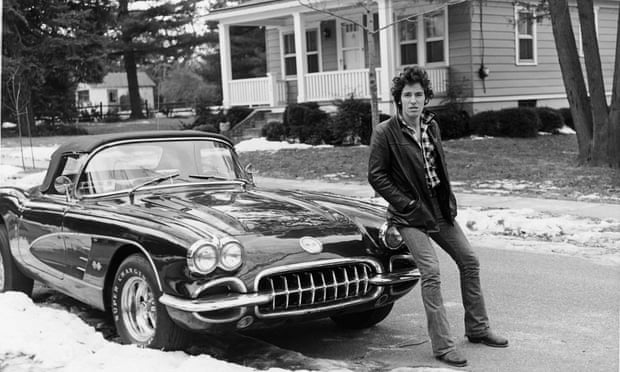 ---
This article titled "10 of the best Bruce Springsteen landmarks in New Jersey" was written by Laura Barton, for The Guardian on Wednesday 18th October 2017 05.00 UTC
Sponsored Links
Convention Hall, Asbury Park
This impressive building on the Asbury Park boardwalk was built in the late 1920s and is largely used for concerts and sporting events. Since 1999, it has also been the location for Bruce's tour rehearsals. But Bruce hasn't been its most raucous resident: in 1956, it was famously the scene of a large-scale riot at a Frankie Lymon and the Teenagers show, after which the mayor threatened to impose a ban on rock'n'roll performances.
Sponsored Links
These days it is crowned by a large illuminated sign reading Greetings From Asbury Park – a reference to the title of Springsteen's 1973 debut.
• apboardwalk.com
Sponsored Links
Atlantic City
Fabled for its beaches, boardwalks and casinos, Atlantic City was also the subject of a 1982 Springsteen single (from the album Nebraska), a slightly desperate, faintly seedy invitation to get dressed up and meet in the city as trouble appeared to brew on the horizon. The song captured the new feel of the city: in the late 1970s, when it sat in heavy decline, a referendum was passed to legalise gambling here, and it swiftly became a destination for gambling, boxing bouts and a kind of Vegas-lite air. Bruce's accompanying video showed the demolition of the city's old Blenheim Hotel and shots of the earliest casinos, including Caesar's, Playboy and Harrah's.
39½ Institute Street, Freehold
This wasn't Springsteen's first home (that's now a church driveway on Randolph Street) but this white wooden home with a porch is where the young Bruce moved in 1958. Fans may recognise it from its appearance as part of the Born in the USA album artwork: on the lyric sheet, the words run over a picture of Springsteen leaning against a sycamore tree in the front yard. In his autobiography, he remembers it had "no hot water, [and] four tiny rooms". Today, perhaps a little weary of the Bruce pilgrims, there is a stern "no solicitors" sign on the door.
E Street, Belmar
Highway 71 is the main arterial route through Belmar, a small, ocean-side borough of Monmouth County. A few blocks east of here is E Street, a short, one-way street where Bruce's one-time keyboard player Dave Sancious's mother lived, and where they would practise in the earliest days. Springsteen duly named his band the E Street Band in its honour. When the band was inducted into the Rock & Roll Hall of Fame, Springsteen spoke of how "real bands – real bands are made primarily from the neighborhood. From a real time and real place that exists for a little while, then changes and is gone forever."
The Stone Pony, Asbury Park
The Stone Pony has stood here at Ocean Avenue since 1973, a 1,000-capacity venue that is now one of the most well-visited destinations for Springsteen fans. Though Bruce actually launched his career at the Upstage Club, over on Cookman Avenue, it's the Stone Pony to which his name is forever tied, playing here more than any other venue. He first stepped on stage here in 1974, playing with The Blackberry Booze band, led by Steve Van Zandt and Southside Johnny. Though he never played the Stone Pony with the E Street Band (aside from fundraising shows), in the early 80s he often jammed with the Sunday night band Cats On a Smooth Surface.
• 913 Ocean Avenue, stoneponyonline.com
7½ West End Court, Long Branch
In the year he lived in this cottage, a block or so from the beach in Long Branch, the 25-year-old Springsteen wrote the bulk of his album Born to Run. Springsteen has spoken of the Aeolian piano that once stood in the living room and the kitchen table, where he used to write his lyrics, now sits in the Rock & Roll Hall of Fame and Museum in Cleveland. In 2009, it was bought by three Springsteen fans determined to preserve the house for musical posterity but, two years ago, they put it up for sale once more for just under $300,000.
Highway 9
Though you might expect Springsteen's lyrics to be heavy on the New Jersey specifics, he is in fact quite restrained in this department, favouring instead a more general sense of the state. Several of the references that do stand, however, are to roads: the New Jersey Turnpike, which appears in Living on the Edge of the World, Open all Night and State Trooper, and Route 88, which pops up in Spirit in the Night. US Route 9 has its moment of glory in Born to Run in the line "Sprung from cages on Highway 9 …" Should you care to drive it, Route 9 runs largely parallel to the Garden State Parkway, up through the suburbs of Atlantic City, and leaves the state via the George Washington Bridge.
Madam Marie
When he was in his late teens, from time to time Springsteen would visit a fortune teller named Madam Marie on the Asbury Park boardwalk – allegedly it was she who told him he was going to be famous. In fact, Madam Marie was the stage name of Marie Castello, and her small booth was nicknamed The Temple of Knowledge. Springsteen would often sit outside it and, in 1973, he referenced her in his song 4th of July, Asbury Park (Sandy): "Did you hear the cops finally busted Madame [sic] Marie for telling fortunes better than they do …" and she enjoyed widespread fame thereafter. Castello died in 2008 but her business continues on the boardwalk.
• 4th Avenue, green space on the Boardwalk
Maxwell's, Hoboken
Maxwell's is a musical institution in New Jersey but it played a part in the Springsteen story in 1985 when it was used as one of several New Jersey locations for his Glory Days video, directed by Hoboken resident John Sayles. A wistful look back to his younger years, the song's opening verse recalls a chance meeting Springsteen had with his former Little League teammate, speedball pitcher Joe DePugh, at a bar in 1973, and the video's baseball scenes were shot at Miller Stadium in West New York, New Jersey.
• 1039 Washington Street, maxwellsnj.com
The Student Prince, 911 Kingsley Street, Asbury Park
In the late summer of 1971, Springsteen would meet E Street saxophonist Clarence Clemons – later nicknamed The Big Man – here at this Asbury Park bar. Clemons was playing with Norman Seldin & the Joyful Noyze at the Wonder Bar down the street and after his show walked up to see Springsteen's set. The story runs that there was a heavy storm that night and as Clemons opened the door to the club the wind was so strong it blew the door off its hinges. Clemons too was thunderstruck – albeit by Springsteen's performance. "It was so urgent, so real, and so exciting to me," he told Springsteen biographer Peter Ames Carlin. "It was like I'd been searching for so long and now, thank God, I am finally, finally, where I'm supposed to be."
guardian.co.uk © Guardian News & Media Limited 2010
Published via the Guardian News Feed plugin for WordPress.
Sponsored Links