Sponsored Links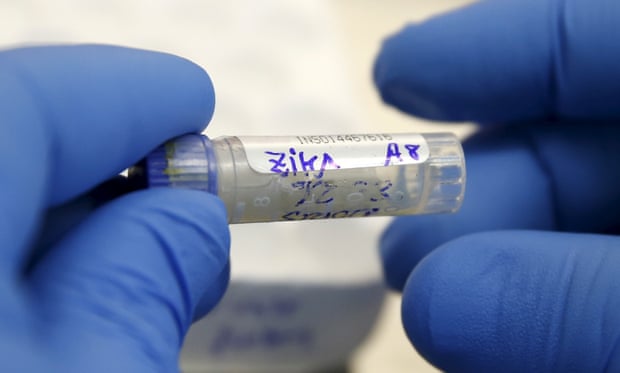 ---
Sponsored Links
This article titled "Sexually transmitted Zika case in US turns attention to how virus can spread" was written by Jessica Glenza in New York, for The Guardian on Wednesday 3rd February 2016 21.52 UTC
Sponsored Links
A rare case of the Zika virus being transmitted through sex, not a mosquito bite, has been reported in the US, prompting fresh concerns over the spread of a disease that has been linked with the births of brain-damaged babies in Brazil.
Sponsored Links
The spread of the mosquito-borne virus across 23 countries in South and Central America was declared a public health emergency of international concern by the World Health Organisation earlier this week.
The announcement was expected to trigger funding for research to try to establish whether Zika is responsible for the large numbers of babies born in Brazil with abnormally small heads – a condition known as microcephaly – and for a huge effort to prevent pregnant women in the region from becoming infected.
But the new case – the first to be passed within the mainland US – has raised new questions over whether the virus could spread in countries that do not have the Aedes mosquito, which carries the disease.
US health authorities have warned men that they should wear condoms for months after possible exposure, following similar guidelines issued by Public Health England last week.
Cases of sexually transmitted Zika are also underlining the urgent need for more research into the virus. Little is known about other transmission modes, scientists say: it is unclear how long the virus might linger in sperm or urine, or how common person-to-person transmission might be.
"The underlying issue is we do know it remains in the semen," said Dr Nikos Vasilakis, a professor of emerging infectious diseases at the University of Texas Medical Branch. "And this gap in knowledge, it presents us with problems for giving guidance."
Scientists still have no quick tests to look for Zika in mosquitoes or people, and those that do exist can give false positives. And there is still no "smoking gun" correlation between Zika and microcephaly, though epidemiological evidence is strong.
Kristin Bernard, a University of Wisconsin-Madison researcher who specialises in dengue and other mosquito-borne diseases, said that tropical diseases are often under-researched because they do not affect developed countries. "Now because [Zika is] potentially causing a pandemic, and it's definitely widespread in the Americas, the WHO is concerned, [the US Centers for Disease Control] and the NIH [National Institutes of Health] is concerned," she said.
In late January the NIH – the US government's main medical research agency – called on scientists to study transmission and set up animal models, but relatively few grant opportunities are available. In just the last couple weeks, pharmaceutical companies such as GlaxoSmithKline and Sanofi have announced the race to a vaccine.
Zika was discovered in Uganda in the 1940s, and in the decades since has remained a "neglected tropical disease", a pathogen that has been identified but under researched.
So when Zika caused widespread infection in the last few years, in French Polynesia, south-east Asia, Africa and South America, little was known about the disease. Now, the WHO reports as many as three to four million people could become infected with Zika in the Americas in the next year. Scientists believe the majority will be infected by mosquitoes.
"Right now, what we would love to know is among mothers who get a Zika infection in pregnancy, how many get microcephaly? And we don't have that information," said Chris Barker, a pathology professor at the University of California-Davis school of veterinary medicine.
"It's raising so many questions, I can't imagine what it would be like to be a mother in a place where Zika is being transmitted all the time."
Vasilakis, like others, emphasised the need for prevention.
"We can only say to individuals how to protect themselves, and unless we have a concerted effort that involves mosquito control and also vaccination we won't be able to have a quick solution," he said.
guardian.co.uk © Guardian News & Media Limited 2010
Published via the Guardian News Feed plugin for WordPress.
Sponsored Links